Children with attention deficit/hyperactivity disorder (ADHD) need unstructured time alone and with their parents and siblings. The symptoms of ADHD may represent a desperate attempt on the part of the child to give his mind the unstructured time it needs to explore. Giving your child this quiet time does him a tremendous service.

Your child needs time away from structured activities for another reason. Many structured activities have an implicit or explicit performance expectation. If your child plays on a sports team, he may feel he has to be good at it or that he is being evaluated and compared to other children. In music disciplines, there is often a sense that children have to master and even excel at the skills involved in the practice. Most organized activities emphasize some form of achievement. If your child is doing poorly in school, these kinds of activities may be a wonderful outlet for him to receive praise in another area, or they may be just another setting in which he has to prove himself.

The more activities he is engaged in, the more intense and relentless is the pressure to perform and achieve. This pressure can take its toll on anyone -- especially a young child. And it can negatively affect a child diagnosed with ADHD even more intensely. Children with ADHD have a strong need for unstructured time to nurture their creativity. Creativity requires free time to explore, to play, and to pretend. If much of your child's time is being shaped by structured activities, he will be restless and disruptive. He needs and prefers the time to explore and create his own structure. This is not to say that children should not participate in any extracurricular activities -- just that they need fewer.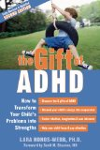 Continue Learning about ADHD