One of the symptoms parents of children with attention deficit hyperactivity disorder (ADHD) struggle with most is their child's emotional outbursts. Children with ADHD have little emotional control. When they're sad, they are given to fits of crying; when they're angry, they are given to tantrums; and when they are excited, they're prone to act like a Tasmanian devil, whirling around and leaving big messes as they go. Not only do they tend toward big displays of emotion, but they also seem to be subject to a more frequent loss of emotional control than other children, leaving parents to cringe inside and dread social situations where they expect their child to throw a temper tantrum. However, these very same symptoms that parents may have come to dread represent a remarkable gift: emotional sensitivity and intensity.

Your child may be prone to more frequent emotional reactions because he is so responsive and sensitive to life, to other people, and to his connection with others. Children with ADHD go through each day living in a world that has the volume turned up much higher than it is for others. This quality of emotional sensitivity may be seen as the fundamental distinctive feature of ADHD and can be seen as helping to drive the other gifts of ADHD.

The gift of emotional sensitivity is directly related to the gift of interpersonal intuition. Our interpersonal relationships and sense of connection to others depend on emotional sensitivity. We connect with others by understanding how they feel. The more emotionally sensitive a child is, the more he can empathize with others because he has felt those same emotions. Your child has this gift of sensitivity in abundance.

The gift of emotional sensitivity is also directly related to the gift of creativity. Because the world affects your child more deeply, his capacity to represent the world in artistic ways is increased. He can see things others cannot see and feel things that others just barely notice. His perception of the world strikes us as creative because it is different.

Further, the gift of intense emotional experience fuels your child's deep connection to the natural and organic world. Whereas for many adults the natural world is merely part of the background, the child diagnosed with ADHD is intensely sensitive to the organic, growing, alive, nurturing qualities of the natural world. Your child's ecological intelligence is related to a sensitivity to and concern for his environment.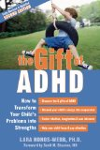 Continue Learning about ADHD