Children who have been diagnosed with attention deficit hyperactivity disorder (ADHD) are often perceived as interpersonally defiant or oppositional. It is this quality that most provokes teachers and sets up a negative interaction cycle.

Because your child is interpersonally sensitive, he will feel the teacher's judgment of him and act it out in class (or simply tune out and not try at all), setting up yet another vicious circle: Your child's teacher knows your child has been diagnosed with ADHD, so, at the first sign of disruption, she reacts very negatively. Your child picks up on the teacher's negative feelings and begins acting them out, causing even more disruption. Then the teacher punishes your child, embarrassing him. Now your child not only feels compelled to act out the teacher's increasingly negative feelings but also reacts strongly to being humiliated in class. Rather than being able to identify his feeling of being embarrassed by the teacher, your child is more likely to try to show the teacher he doesn't care by acting out even more. So the teacher's negative judgments and punitive behavior can create behavior that is, in fact, defiant -- it is an attempt to defy the teacher's seeming rejection of your child.

So how does self-reliance fit into this process? Often, in this cycle, your child's initial behavior is a form of self-reliance that gets interpreted as defiance. The teacher's tendency to interpret self-reliance as defiance is what sets up the initial rejection, which leads to the cycle described above. For example, a common disruption involves a child getting out of his seat without asking permission. The reason he doesn't ask permission may be that he feels confident and does not want to bother the teacher. Imagine how different the situation would be if the teacher recognized the initial act of self-reliance rather than assuming that it represents defiance.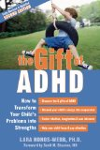 Continue Learning about ADHD