Recent advances in psychology and education reveal that there are many different types of intelligence and that each child has a unique profile of strengths and weaknesses. Unfortunately, the education system is not set up to handle these kinds of differences in learning styles. As it stands, the current school model focuses almost exclusively on developing one or two types of intelligence -- abstract reasoning in verbal and mathematical realms and the acquisition of abstract facts and knowledge. Many children, even traditionally gifted children, are failed by the excessive focus on the development of abstract reasoning and learning through book knowledge. Attention deficit hyperactivity disorder (ADHD) children are particularly failed by this system because they tend not to learn well in the ways that schools typically teach.

The school may develop an individualized education plan (IEP) for your child, usually at your request, but this plan probably won't in any significant way accommodate the true gifts and differences of your child. Unfortunately, the educational system has profoundly limited resources and as a result often fails children with significant differences. Unable to recognize the lack of flexibility of the educational system to accommodate these differences, its representatives (the teachers and administrators) may blame the child for not having a mind that fits its model. I don't mean to say that your child's teachers are bad people or that they are trying to hurt your child; it's just that the system is flawed and tends to work only for certain kinds of kids.

The tendency for the educational system to point the finger at your child rather than acknowledging its own failings further exacerbates your child's problems. Rather than hearing "You are different, and our system is not set up to meet your needs," your child gets the message "Because you don't fit our system, you must have a disorder."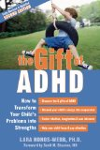 Continue Learning about ADHD