If your child has attention deficit hyperactivity disorder (ADHD), punishment ("No dessert for you!") may not have the lasting impact on your child's social-skills deficits that you'd hoped for. It may stop specific behaviors in specific settings, but because it doesn't teach right behaviors, positive reinforcement is more important for meaningful and lasting social-skills improvement.
There are some negative side effects of punishment. Your child may begin to avoid situations where she finds herself punished. So, rather than gain emotional or social skills that she needs, she just stays away from people or places where she gets in trouble. This can lead to school avoidance or anxiety disorders when she can't avoid punishing situations. Again, the idea here is that if you don't get to the root of problem behavior (emotional causes), then your child remains bewildered, doesn't understand her own behavior, and feels desperately out of control.
Other concerns with punishment are that your child may simply develop behaviors that help her avoid punishment, such as lying or hiding. Another risk is that your child begins to adapt to punishment, and you have to keep escalating your threats. This kind of escalation can be very destructive to your connection with your child.
The importance of not comparing your child with ADHD to other kids
Pay attention to how much time you spend comparing your child with ADHD to other kids his age. Excellence does not have to be defined in comparison to others. Also notice if you are expecting your child to excel at too many activities. If so, he may be wasting vital energy that could be used for deep absorption in one area in which he's both interested and gifted.
It may be that the capacity for outstanding expression, the sort of giftedness that makes all of us wonder, is depleted by running around from one brain-building competition to another. Perhaps by frittering away your time and energy by following the crowd in the competition du jour, you miss your child's unique form of expression. It might be that you are running from tutoring program to football game at the moment your child is inspired to be an artistic genius. Maybe you're determined that your child will match your focus and discipline in playing the clarinet, when he would find great release and expression in something like martial arts, a physical activity that could help him settle down to do his homework.
When you begin to see that your child's needs, interests, and talents are highly idiosyncratic but deeply meaningful, you can step back from your fears about him falling behind and step up to discovering his arena of outstanding expression. Remember that once he forges the link to his outstanding expression, it will provide fuel for all other arenas of motivation and achievement. The expression of his interests and gifts will energize him, not deplete him.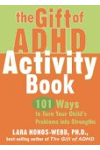 Continue Learning about ADHD