Some people with attention deficit hyperactivity disorder (ADHD) feel things very deeply and it's sometimes overwhelming. They can't help but feel bad both physically and emotionally. As a result, they might overreact to people or feel irritated by little things, like bright lights, strong odors, a hand on the back or just benign social interaction.

The good news is that being a sensitive person can make you a good friend, caring partner, and more sympathetic human being. And sensitive people can bring lots of great qualities to their relationships, like compassion, caring, introspection, and conscientiousness.
Continue Learning about ADHD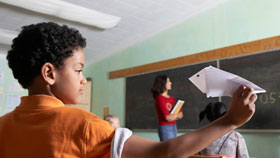 Whether you refer to it as Attention Deficit Disorder (ADD) or Attention Deficit Hyperactivity Disorder (ADHD)it's the same disorder. Impulsive behavior, hyperactivity, difficulty concentrating are symptomsand children and adults ...
can have them. Can't sit still, can't finish projects, always forgetfulthese are also part of the pattern. With medications and therapy, it's possible to control these impulses and live a more normal, productive life.
More