To help you and your child cope, you can try parent training, which teaches you how to help your child with ADHD (and helps you cope with it too).
Keep to the same routine every day, from early morning until bedtime. Include set times for play and homework, and post the schedule in a prominent place so your child can see it.
Help your child organize everyday items, such as clothing, backpacks, and school supplies. Keep everything in the same place.
Use notebooks and organizers to make sure your child writes down homework assignments and brings home needed books and supplies.
Remember to praise your child. Children with ADHD receive a lot of criticism, so look for good behavior and hand out gold stars whenever it happens (yes, gold stars still work).
Ask your child's teacher to provide feedback to your child in private and to avoid asking your child to do a task in front of others that might be too difficult for him.
From The Smart Parent's Guide: Getting Your Kids Through Checkups, Illnesses, and Accidents by Jennifer Trachtenberg.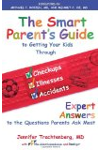 Continue Learning about ADHD