Parent coaching may be essential to support your attention deficit hyperactivity disorder (ADHD) child's level of functioning. You can connect with a therapist who will help you address specific strategies for working with your child. This may entail helping you foster emotional intelligence in your child, improve communications skills, and manage your child's challenges.

Another treatment choice is family therapy. By working with the whole family, a therapist can help manage stressors, address conflicts, and solve problems. As these problems are resolved and as the family gains more skills for finding specific solutions, the child's level of functioning is likely to improve.

Individual play therapy for younger children, or counseling for older children, can lead to improvements. Because of the emotional sensitivity of ADHD children, having a safe place to release and heal emotions can decrease symptoms. Children may gain from building emotional intelligence and learning stress management and other coping techniques. Cognitive therapy, used to overcome negative attitudes, can increase motivation and confidence, thereby improving the child's level of functioning.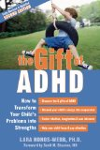 Continue Learning about ADHD