Fantasies have a truth of their own. We think of fantasies as by definition false. But fantasies aren't concerned with true or false, they're concerned with creation. Fantasies guide you in creating reality, not in reflecting it. Adult attention deficit disorder (ADD) gives you lots of fantasies. These can distract you, but they can also give you the power to create a new world rather than repeat your past. The symptom is tied up with the gift.
Continue Learning about ADHD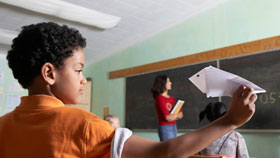 Whether you refer to it as Attention Deficit Disorder (ADD) or Attention Deficit Hyperactivity Disorder (ADHD)it's the same disorder. Impulsive behavior, hyperactivity, difficulty concentrating are symptomsand children and adults ...
can have them. Can't sit still, can't finish projects, always forgetfulthese are also part of the pattern. With medications and therapy, it's possible to control these impulses and live a more normal, productive life.
More