Sometimes problems are simply the result of unfortunate learned behaviors. For example, if your child blurts out inappropriate comments in social settings, it may be because he finds the eye-popping, jaw-dropping reactions he gets from adults to be stimulating. Your child may be interpreting these visual cues as positive reinforcement. Remember that a major interpersonal gift of attention deficit hyperactivity disorder (ADHD) is that these children are tuned in to people's emotional reactions and attend more to nonverbal cues than to what adults actually say.

Additionally, sometimes bad behavior can be easily managed by working on solving problems in the conditions preceding such behavior.

When you interpret your child's behavior as the cause of, rather than a reflection of, family tensions, your sensitive child easily senses the blame he's subject to and internalizes an image of himself as bad. The more the diagnosis causes you to blame him for family tensions, even if you don't express this blame verbally, the more he will feel the blame and internalize it. And the more he blames himself, the more he tends to think of himself as bad and unable to control his behavior. The more he thinks of himself this way, the more his behavior will reflect this internal image.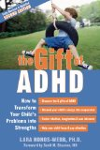 Continue Learning about ADHD