Schools often develop individualized education programs (IEPs) for kids with attention deficit hyperactivity disorder (ADHD). These programs are used to determine students' learning strengths and weaknesses, and they can help with making plans for improving learning. Kids with ADHD and learning disabilities may require specialized activities to do their best in school. For these students, an IEP might include regular time with a tutor or a specialized classroom or special equipment.
Continue Learning about ADHD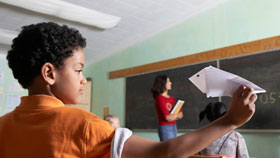 Whether you refer to it as Attention Deficit Disorder (ADD) or Attention Deficit Hyperactivity Disorder (ADHD)it's the same disorder. Impulsive behavior, hyperactivity, difficulty concentrating are symptomsand children and adults ...
can have them. Can't sit still, can't finish projects, always forgetfulthese are also part of the pattern. With medications and therapy, it's possible to control these impulses and live a more normal, productive life.
More