There are many problems with using medications to treat attention deficit hyperactivity disorder (ADHD) in children. The first and foremost of these problems is that the MTA Study Group which is the largest, most rigorously conducted scientific research in 2009 shows that, after eight years of follow-up, the benefits are not observed for those who initially received medication treatment compared to those in other conditions. The long-term benefits are not easily found, and there is reason for concern about the short-term and long-term negative effects of being treated with ADHD medications. Short-term negative effects may include insomnia, stomach problems, irritability, headaches, and heart palpitations. Long-term effects are unknown, but neuropsychologists argue, based on knowledge of those who are addicted to nonprescription stimulants and of recent animal studies, that "stimulants could alter the structure and function of the brain in ways that may depress mood, boost anxiety and, in sharp contrast to their short-term effects, lead to cognitive deficits."

Another concern regarding longer-term side effects is the potential for addiction to these drugs. According to Volkow, a leader in the field, "People abuse prescription stimulants for various reasons -- to get high, to improve academic or athletic performance, or to lose weight -- putting themselves at risk for dangerous health consequences. Young people are at particular risk -- in 2005, 8.6 percent and 4.4 percent of twelfth graders reported past-year non-medical use of amphetamine and methylphenidate, respectively."

A deeper concern has to do with the support that the child will not get because the medication will treat the symptoms but not underlying causes. It's possible that the symptoms are in part being caused by issues such as a loss in the family, high levels of family stress, and mental and physical health problems in parents or siblings. Children are very sensitive and their behavior can easily be affected by anxiety and loss. By suppressing the symptoms with medications, the underlying issues for the child may never get addressed and can show up in more disruptive forms later in life.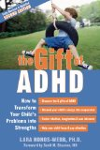 Continue Learning about ADHD