The medical model presents attention deficit hyperactivity disorder (ADHD) as a brain dysfunction to be treated with medication that changes the biology of the brain. A significant problem with the medical model of ADHD is that it misrepresents the process of diagnosis, which is necessarily subjective. Because the symptoms themselves are behaviors rather than biological symptoms, such as fever, the assessment of the disturbance is essentially a social judgment. In short, if a teacher is telling you that your child's behavior is unmanageable, there is no thermometer that can confirm the teacher's judgment in an objective sense.

As a social judgment, the assessment is naturally biased, because the person making the judgment and the social setting in which the behavior occurs are not objective. In other words, the person making the judgment may be biased, and there may also be a real problem in the social setting that your child is responding to.

So when psychologists provide a label that carries the weight of a medical diagnosis, they are in some ways making the mistake of transferring medical notions, which are more objective, to the psychological and behavioral realm, which can be measured only in subjective and biased ways by individuals in particular settings.

The medical model for understanding ADHD presents a lot of problems when it comes to treatment. The diagnosis itself, which conveys an irrefutable medical diagnosis rooted in brain pathology, seems to contradict the idea that the symptoms could be reduced. But, unlike more stable medical diagnoses, the realms of behavior and emotion are actually considerably affected by how much you and your child believe that he can change his behavior. The more you believe, the more success you will have in effecting the changes you and your child want to make.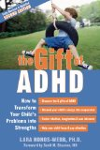 Continue Learning about ADHD