In psychosocial treatment therapies, children learn how to change some of the impulsive, inattentive, and hyperactive behaviors that occur with attention deficit hyperactivity disorder (ADHD). Since most children with ADHD grow up to have symptoms of ADHD in adulthood, psychosocial treatments can be a great investment in a child's future. When a child is encouraged and consistently taught effective behavior management techniques, they can take these abilities with them as they grow. Parents and educators who enforce psychosocial treatment strategies play a huge role in helping children with ADHD learn effective problem-solving skills for life. The National Resource Center on ADHD reports that over time psychosocial treatments like behavior modification often foster better behaviors in children with ADHD.
Some parents try alternative therapies, such as large doses of vitamins, Chinese herbals, or iron supplements, and report improvements in their children. You should know that cutting out all white sugar from your child's diet has not been shown to do a bit of good (except for their teeth). However, a small study recently suggested that eliminating food preservatives may help, but no large-scale study has proven that. Still, if you want to try this, I would recommend eliminating just one additive at a time to see if you notice any difference.
From The Smart Parent's Guide: Getting Your Kids Through Checkups, Illnesses, and Accidents by Jennifer Trachtenberg.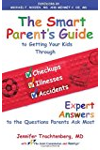 More About this Book
The Smart Parent's Guide: Getting Your Kids Through Checkups, Illnesses, and Accidents
What to Do When You Don't Know What to Do! "Moms and dads need expert guidelines, especially when it comes to their kids' health. This book reveals the inside strategies I use myself-I'm a parent, too!-to avoid critical, common blunders where it matters most: in the ER, pediatrics ward, all-night pharmacy, exam room, or any other medical hot spot for kids. These tips could save your child's life one day. Even tomorrow." -Dr. Jen Making health care decisions for your child can be overwhelming in this age of instant information. It's easy to feel like you know next to nothing or way too much. Either way, you may resort to guessing instead of making smart choices. That's why the nation's leading health care oversight group, The Joint Commission, joined forces with Dr. Jennifer Trachtenberg on this book: to help you make the right decisions, whether you're dealing with a checkup or a full-blown crisis. The Smart Parent's Guide will give you the information you need to manage the pediatric health care system. Dr. Jen understands the questions parents face—as a mom, she's faced them herself. She walks you through everything: from how to choose the best ER for kids (not adults) to when to give a kid medicine (or not to) to how pediatricians care for their own children (prepare to be surprised). Her goal is your goal: to protect the health of your children. There simply is nothing more important.
Continue Learning about ADHD