People with attention deficit hyperactivity disorder (ADHD) may consider hiring an organizational coach who specializes in adult ADHD. The right coach not only will help motivate them but will also help them to develop their abilities to more effectively manage details and time, prioritize tasks, structure their environment and stay on schedule.
Continue Learning about ADHD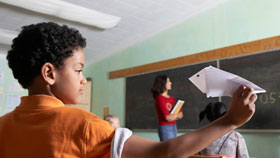 Whether you refer to it as Attention Deficit Disorder (ADD) or Attention Deficit Hyperactivity Disorder (ADHD)it's the same disorder. Impulsive behavior, hyperactivity, difficulty concentrating are symptomsand children and adults ...
can have them. Can't sit still, can't finish projects, always forgetfulthese are also part of the pattern. With medications and therapy, it's possible to control these impulses and live a more normal, productive life.
More