As a parent of a child with attention deficit hyperactivity disorder (ADHD), you've got your work cut out for you. You probably struggle with your own feelings of hopelessness about changing your child. You struggle with your child's motivation, or lack of motivation, to change. Mental health and educational systems may seem overly eager to change your child in ways you might question. Although managing the complex puzzle of parenting a child with ADHD may seem overwhelming, the goal of reclaiming and celebrating your child's gifts is worth it.

You have the power to delight in your child's differences and gifts and to share that delight with your child, your child's teachers, and other significant individuals in your child's life. Most important, through your supportive and validating relationship with your child, you will reconnect with him and have the relationship with him that you truly want. This relationship in itself will be the most powerful healing agent of all.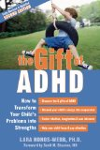 Parents of a child with attention deficit hyperactivity disorder (ADHD) may face more difficult behavior issues and may not be able to use traditional parenting skills. It may be necessary to find support groups or educational classes to learn new coping skills. It may also be helpful to seek family counseling and problem-solving techniques to help cope with these issues.
Continue Learning about ADHD