Because children with attention deficit hyperactivity disorder (ADHD) look healthy, it is not easy to identify learning disabilities. They can find it hard to focus on learning and concentrating. Kids may be easily distracted and hyperactive. These signs may appear when kids have difficulties with normal classroom activities. Among these are speaking, reading, writing, calculating numbers, or paying attention in class. Kids may be unable to follow directions or work on simple assignments. Learning disabilities may not even appear until the teen years.
Continue Learning about ADHD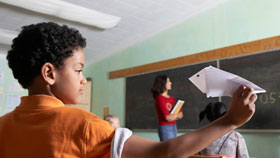 Whether you refer to it as Attention Deficit Disorder (ADD) or Attention Deficit Hyperactivity Disorder (ADHD)it's the same disorder. Impulsive behavior, hyperactivity, difficulty concentrating are symptomsand children and adults ...
can have them. Can't sit still, can't finish projects, always forgetfulthese are also part of the pattern. With medications and therapy, it's possible to control these impulses and live a more normal, productive life.
More