Telling a child that attention deficit hyperactivity disorder (ADHD) is a medical disorder sets up a profound barrier to treating the symptoms and helping your child heal.

Because behavior and emotions are shaped so powerfully by expectations and because the label of ADHD sets up strong expectations, the label itself can be damaging and get in the way of effective treatment. Why is this true? If a doctor tells a child that he has a deficit, then you can expect that the child will take the doctor's statement as unimpeachable truth and come to understand himself as flawed. He will likely act out in ways that reflect diminished self-esteem and reduce his chances of positive treatment results.

Once a child with ADHD is admitted into the mental health system, the diagnosis can interfere with the most potent treatments for changing behavior. In a medical setting, if the cure for a fever is aspirin, then the aspirin will work no matter what the doctor tells you about the nature of your disorder. However, in psychological settings, the very work of therapy and healing your child is often obstructed by the diagnosis. For example, all cognitive therapies for psychological disorders involve changing the way clients think about themselves. If a child feels that it is hopeless for him to even try in school, a cognitive therapy will help your child to challenge these thoughts of hopelessness. Unfortunately, the diagnosis of ADHD tends to undermine the power of these therapeutic interventions. The diagnosis seems to say to the child, "You have a disorder that makes you inalterably less than other students." This message has negative effects on your child's thoughts about himself and his abilities and can undermine otherwise-powerful cognitive therapies.

The diagnosis also seems to convey that ADHD is the same in every situation and is immune to change without medical interventions. This is not a fair way of representing a psychological and behavioral difference, because your child's symptoms will vary according to setting and interaction with specific individuals.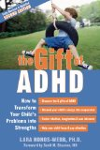 Continue Learning about ADHD