Many times, the bad behavior of children with attention deficit hyperactivity disorder (ADHD) is a misguided attempt to get some precious attention. Fuel your child up with the highest octane energy you can early in the day. Spend a few minutes being entirely present with your child. Look them in the eyes, touch them lovingly and listen closely to your child. This intense presence will give them what they need and head off desperate pleas for attention. Sometimes just a few minutes will prevent large energy draining hassles.
Continue Learning about ADHD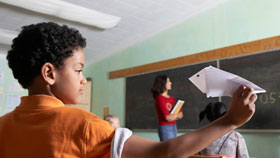 Whether you refer to it as Attention Deficit Disorder (ADD) or Attention Deficit Hyperactivity Disorder (ADHD)it's the same disorder. Impulsive behavior, hyperactivity, difficulty concentrating are symptomsand children and adults ...
can have them. Can't sit still, can't finish projects, always forgetfulthese are also part of the pattern. With medications and therapy, it's possible to control these impulses and live a more normal, productive life.
More