As your child's coach, you will want to teach him to honor taking time out. Whether he spends some time daydreaming or just plain ol' resting, encourage him to take some time off. Time-outs like these have not been valued in American culture, to our own detriment some might argue. But you can introduce the notion of the siesta to your family and gain the benefit of some downtime.

Plan a siesta this weekend, a period when the whole family simply rests. You can tell your child that taking a siesta means he either has to nap or quietly read. This way, he will either be building his reading skills or at least learning the wisdom of honoring the body's need to take a break. The American ideal of constant activity in the service of productivity will take a toll on your child. By creating a siesta, your child will learn to honor his body's natural rhythms and may be encouraged to let his imagination run wild.

If you want your child to create new things and be an innovator, it is essential that he learns to appreciate and honor his own imagination and not dismiss it as a waste of time. The weekend siesta can be a time the whole family can use to rest, rejuvenate, and imagine.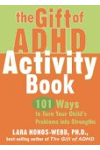 Continue Learning about ADHD