If your child has an attention deficit hyperactivity disorder (ADHD) you will want to get the teacher to be as specific as possible in his or her complaints and adopt a problem-solving approach, rather than suggesting that the child be evaluated for ADHD at the first sign of trouble. For example, if a teacher complains that your child is hyperactive and should get evaluated, ask for specific examples of this behavior and work toward solving the disruptions. A wiggly child can be given permission to leave his seat to go get a drink of water or get some materials from the principal's office, for instance.

The main action you can take to advocate for your child is to translate her "symptoms" into needs. For example, hyperactivity is a need for physical activity, and creativity is a need to explore novel applications and work toward novel solutions. In each case that your child's teacher points to a problem, you can try to find a way to translate it into a specific need that can be met with support from you and the school.

So remember, when the teacher calls, stay centered in your ability to protect your child by focusing on what's working and by using your child's gifts as the starting point for any conversation.

If you can overcome the barrier of seeing teachers and other professionals as the final authority, then you can begin to advocate for your child by showing people how to see your child as you do. It may help you to remember that these experts may be right about the details but wrong about the big picture. For example, your child may jump out of her seat a lot during the school day and may interrupt other students. But these behaviors don't have to be seen as indicating that your child is fundamentally flawed. As you shift your own vision of your child, you can learn to help others who are involved in your child's life shift their view and so better serve your child.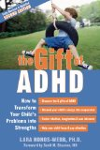 Continue Learning about ADHD