The frenetic pace of life, the constant rushing around, makes it hard for any parent or child to become attuned to her emotions. The flurry of activity, the constant admonishments to hurry, act to actually repress feelings and may even be motivated by the desire to numb our emotional lives. You can raise the awareness of your child with attention deficit hyperactivity disorder (ADHD) of how hyperactivity dampens emotions by experimenting with a slow-motion hour.

Tell your child that you and/or the family are going to play a silly game where everyone moves in slow motion. You could choose to eat a meal or play a game during that hour. You can clown it up and make funny slow-motion gestures and draw out your words "sloooowleeeee" to make it entertaining for everyone.

Afterward, ask your child what she felt, thought, or experienced during the slow-motion hour. Many people who try this find that many previously unrecognized feelings come to the surface. Even just breathing more slowly can have the effect of releasing pent-up emotions. When you are in a rush, you and your family will likely breathe more shallowly, which has the effect of numbing us to our feelings. Slowing down and putting full attention on something that usually only occupies one of your many channels of attention leaves open lots of inner space for feelings to emerge. Talk with your family about the experiment, what you learned, and if you would like to do anything differently in your daily routines as a result.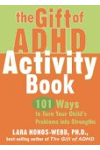 Continue Learning about ADHD