One way to work toward increasing self-esteem is to encourage your child with attention deficit hyperactivity disorder (ADHD) to praise himself for making a real effort. If the child learns to reward himself for his efforts, his persistence will increase. On the other hand, if he were to praise himself only for successful outcomes, he might not have as much chance to reinforce himself in the beginning and would likely get frustrated; he might even begin to value himself for his outcomes rather than his effort, which would in turn lead to negative thoughts about himself. So, because your child's diagnosis is a difference that is at odds with most current school settings, he needs to learn to reward himself based on his efforts.

It's also important that you learn to reward your child for his efforts at improving his schoolwork, relationships with others, and behavior. You can do this by committing to noticing when he's trying and letting him know that you see his efforts. Give him verbal praise. On occasion, you can reward him with whatever goodies are motivating to him, whether it be a special snack, a dinner out at his favorite restaurant, or a trip to the park.

This strategy is an example of what's called behavioral management. Of all psychological theories about how to change people, behavioral management is acknowledged as the most effective way of transforming behaviors. Researchers have found that rewarding people for good behaviors increases those behaviors, and punishing people for bad behaviors decreases those. This powerful strategy for change is effective with animals, little kids, the elderly, and almost any other population or culture you can imagine. However, in this book, we will focus on rewarding increased efforts. Because they are rewarded, the positive behaviors tend to become so prevalent that the bad behaviors eventually get edged out.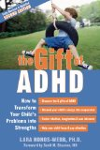 Continue Learning about ADHD