In this exercise, you make a game out of rewarding your child with attention deficit hyperactivity disorder (ADHD) for making positive efforts.

In your notebook, make a bingo card. Tell your child that you will be playing a game of Try-Hard Bingo, in which he can get credit just for trying harder. Explain the rules of bingo, but tell him that in this game he will get a star if he can report one incidence of trying hard in one of the domains. Each day he will have a chance to earn stars. He wins if he gets a star in every domain on any one day or in one domain every day of the week. Each week, work out what the bingo prize will be for a day or a domain.

To make this game more successful, give your child a chance to think about what rewards would be motivating. Let him make a long list, and talk with him about all the things he would like that would be pleasurable. Of course, you'll have to set limits. You wouldn't want your child to be allowed to eat pizza every night. But within limits, agree on a wide range of rewards that are reasonable from your perspective and motivating for him. By giving your child a lot of time to think about and talk about all the things he likes to have and to do, you'll make the game more fun. You might even come up with a reward scheme in which the Try-Hard Bingo card for each week lists a different reward for each day and for each domain. In this way, your child's interest will be maintained, and he will be motivated each day of the week and in each domain.

Keep a copy of the Try-Hard Bingo card displayed prominently at home. Also give your child a copy to take to school with him. Ask him to try to be aware of every time that he tries harder to persist in schoolwork, to gain skills for getting along with other children, or to manage his behavior when he doesn't feel like it. Ask him to write down in a notebook how he tried and what he did, in each of the domains -- schoolwork, relationships, or good behavior.

Every night, spend some time reviewing your child's notebook and filling out the Try-Hard Bingo card. On any night that you check off all three domains (you might want to use stickers or stars), make a big deal of giving your child the prize for that day. At the end of the week, determine whether your child has won bingo in the domain of schoolwork, relationships, or behavior. If so, offer lots of praise and the prize for that domain.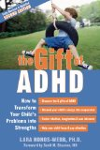 Continue Learning about ADHD