Children who have attention deficit hyperactivity disorder (ADHD) are more likely to have discipline problems, and these problems can be frustrating for parents and teachers. Most experts recommend rewarding good behavior. Discipline should include the taking away of rewards or privileges and the use of timeouts. Discipline should be accompanied by a simple, plain explanation of the child's misbehavior.
Some studies show that certain parenting styles are linked to ADHD in children. For instance, neglectful and harsh parents may cause an increase in ADHD symptoms in children. It is important to support the positive behavior in your child. Teach the child with ADHD what is appropriate and what is not. Be consistent. If your child has ADHD, avoid being negligent or too strict, which can reduce the success of ADHD treatments.
It is possible to discipline your child in healthy ways. If you are not sure how to discipline your child with ADHD, consider seeing a therapist or taking parenting classes. Ask your therapist or your child's doctor for more information. Improved discipline at home pays off with success in school for children with ADHD.
Parents of children diagnosed with attention deficit hyperactivity disorder (ADHD) often wind up punishing their child for bad behavior or academic failure by increasing the level of demands for quiet time or academic study. Unfortunately, this tactic is not effective, because your child's high energy is not willful—it is a reservoir that she needs to learn specific skills to manage. By punishing your child, you communicate that she is wrong rather than simply different.
Another problem with punishing children diagnosed with ADHD is that most forms of punishment, while unpleasant for all children, are excruciating for children with ADHD. For example, sending a child to her room, prescribing quiet time, and taking away a favorite activity are punishments that are more difficult for a child with ADHD to endure successfully. For this reason, your child will likely appear to defy your demands for quiet time. This looks like defiance, which seems to warrant even more punishment, thus setting up yet another vicious circle.
As a general rule, it is better to use positive reinforcement strategies for any child, but particularly for a child diagnosed with ADHD. One reason for this is that your child likely experiences rejection and failure at school and desperately needs a safe place at home where she can feel accepted for who she is. To the extent that you can eliminate punishment from your parenting repertoire, you will improve your relationship with your child and serve her more effectively.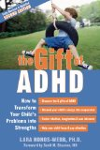 Continue Learning about ADHD