Research has shown that for marriages to stay healthy, positive interactions must outweigh negative reactions five to one. In couples where this ratio is consistently out of balance, there is an increased likelihood of divorce. It seems reasonable to think that for a child who has attention deficit hyperactivity disorder (ADHD), this would be a good number for parents to shoot for, too. This means that while you identify weaknesses and resources for addressing those, you should balance that out on a scale of five to one with compliments and expressions of tenderness.

You can make a game out of this with your child by telling her about this magic number and the need to get "points on the board" by finding five ways to support her. For each positive gesture or comment you make, you get one point. Sometimes an ADHD child can fall into two traps: feeling totally beaten by life because of her struggles, and/or covering over real failures that need to be addressed. By letting your child know that for every problem that needs correction there must also be points on the board, earned by acknowledging positives and giving support, you can defuse both of these traps. If you can turn this into a fun game and the idea really hits home with your child, she won't need to hide her failures because she will know that there is a built-in system to help her rebound. You can keep a dry-erase board on the wall to use as a scoreboard, and each time you have to address a problem you can write it on the board under a minus sign or the word "Challenge." Then make a big fuss about how it's your turn to find five balancing statements or actions to get points on the board. You can count these under a plus sign, the words "Already Fabulous," or whatever works for you. Make the game fun, for example by kissing your child five times and saying, "Okay, we're back in the game!" Or you can find five positive things that weren't canceled out by the problem behavior and share those with your child. Use your creativity to find ways to get points on the board. While this activity is ostensibly about the parent earning points, you can also let your child know that in her own self-talk, she should try to maintain a similar ratio. The game can gradually evolve toward targeting the child's self-talk and keeping a separate scoreboard on hand for her to keep track of her personal points.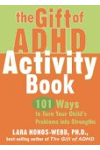 Continue Learning about ADHD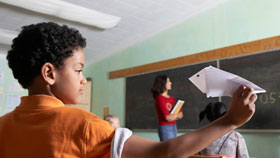 Whether you refer to it as Attention Deficit Disorder (ADD) or Attention Deficit Hyperactivity Disorder (ADHD)it's the same disorder. Impulsive behavior, hyperactivity, difficulty concentrating are symptomsand children and adults ...
can have them. Can't sit still, can't finish projects, always forgetfulthese are also part of the pattern. With medications and therapy, it's possible to control these impulses and live a more normal, productive life.
More