Research over many decades has shown that applying an optimistic explanatory style can help depression and health problems and even extend the length of life. Being positive means explaining bad behavior of your child with attention deficit hyperactivity disorder (ADHD) in a different way than you explain good behavior. Basically, the idea is to give your child as much credit as possible for good behavior and to try to find causes outside of your child for bad behavior.
A positive approach means that you point to the context of a behavior rather than blaming your child with attention deficit hyperactivity disorder (ADHD) when her behavior is bad. Four places to look for what is causing your child's behavior include:
Seek the external, not internal
See the situational, not global
Understand that it's temporary, not permanent
Reframe behavior as reflecting a positive underlying trait
As an example, if your child disrupts class, you might determine that other children were talking and your child couldn't resist leaning over to listen to what they were saying. You can also point to other occasions when your child has made contributions to the classroom environment. You would want to look at any stressors that may be in play that could provoke the behavior. For instance, maybe the disruption occurred during her birthday week, making her more excitable than usual. You might also indicate that the child's disruption of the class was driven by her intense interest and curiosity about the interpersonal interactions of others, pointing out that this quality is a great gift to be cultivated.
One way to find external, situational, and temporary causes of behavior is to ask your child. If you ask her to explain her behavior, she will often point to environmental triggers. Even if she cannot yet point them out specifically, by listening to her closely you can usually determine what some of these may be. Your first reaction should be to ask for an explanation and to listen rather than to start blaming her or defending her.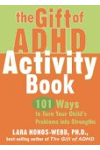 Continue Learning about ADHD