A typical strategy in cognitive behavioral therapy involves the therapist asking the client to evaluate the costs and benefits of a particular thought, belief, or attitude. The exercise that follows invites your child with attention deficit hyperactivity disorder (ADHD) to imagine the long-term consequences of a belief that she does not need to work hard.

When your child says, "Why try?" or makes similar comments, you can offer many different helpful responses. Try the following exercise with your child the next time she expresses this sort of dysfunctional attitude in response to challenges. This exercise will demonstrate to your child the power of this thought and how it can lead to self-defeating behaviors.

Ask your child to imagine her favorite cartoon, movie, or book character, and ask her how that character's life would be different if that character adopted a "why try?" attitude.

The more concrete you can make this exercise, the better. For example, after watching a specific episode of a cartoon or on the way home from a movie, ask your child what would have happened differently in that story if the character had said, "Why try?"

In this way, your child can begin to understand the power of thoughts over her own life and success or failure. By looking at how a thought can affect fictional characters, your child can explore this powerful principle from a more objective point of view, which is less threatening than thinking directly about her own attitudes.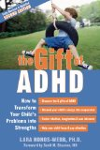 Continue Learning about ADHD