Most people concentrate better when they are relaxed. For a child with attention deficit hyperactivity disorder (ADHD) and its attendant concentration difficulties, finding ways to relax is especially important. One great way to increase a sense of relaxation is to practice meditation. Meditation is really just a way of bringing your focus to something simple and paying attention to that one simple thing for a period of time. This activity can reduce tension and bring a sense of calm, even to a child who often feels her attention pulled in many directions at once.

You can teach your child the basics of meditation by playing the Name That Brain game. Tell your child that the brain plays a number of games, but the two biggest brain games are thinking and feeling. You can review the difference between thinking and feeling for your child. Try saying something like, "Thinking is when you have ideas or you are talking to yourself on the inside. Feelings are those forces that seem like they push and pull us around, like when we talked about mad, sad, glad, and others." Then, while you're driving in the car, you can ask everyone to go around and name their current brain game. At that particular moment in time, are they thinking more or feeling more? This is a central meditative practice to become aware of mental and emotional processes. It will help your child gain some distance and therefore control over thinking and feeling. A central achievement of meditation is to have a feeling rather than be a feeling, or have a thought rather than buy into the thought.

For older kids, you might try adding the following labels: "thinking," "feeling," "planning," and "worrying." You can go around the car a few times and see if people's brain games change. If someone gets stuck, you or other family members can help figure out what label is right or create a new label.

While this activity is a fun way to help your child tell the difference between thinking and feeling, the real point is to give her an introduction to meditation, where she learns to observe her thoughts and feelings.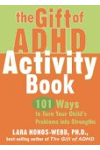 Continue Learning about ADHD