The main reason that children who are diagnosed with attention deficit hyperactivity disorder (ADHD) become increasingly difficult to manage in school and home settings is because their symptoms separate them emotionally from their parents. You can change this easily. If you emphasize connection over compliance, you can radically transform your child. More than anything, your child needs you. While it is perfectly predictable that parents will get angry and frustrated with children who won't comply, you have to remember that, even though it seems your child is pushing you away, he needs you to stay connected to him even in the face of his increasing independence.

It may help you to realize that your child's connection to you is not at all the same thing as compliance. Sometimes what looks like defiance is actually self-reliance, and you can stay connected to your child by honoring his self-reliance. It seems like a paradox, but the more you honor his self-reliance, the more you connect with him because you're accepting him for who he is rather than trying to change him. A further paradox is that the more you honor your child's unique perceptions of the world, the more he will honor your need to set limits.

The most important one is to stay connected to your child. The more you can find a way to honor his differences, the more his behavior will be transformed. Children with ADHD get many complaints about their behavior, and it can be confusing. Some of their behavior simply represents their difference. Some of their behavior truly is inappropriate or defiant. Different behavior becomes bad behavior when children feel that they are being punished or feel disconnected from their parents. You may not always be sure when the behavior has crossed the line from different to bad. In either case, the more you can stay connected, the more you will decrease bad behavior and increase your child's willingness to honor your perceptions and needs.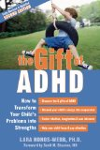 Continue Learning about ADHD