Parents of attention deficit hyperactivity disorder (ADHD) kids are frustrated. They are frustrated with their kids. They're frustrated that their child does not follow directions and that he is so energetic it seems impossible to keep up with him. They're frustrated with teachers who don't seem to have the resources to give their child the individual attention that's so necessary. They're frustrated with themselves for not having the energy and patience to keep up with him and make him just like everybody else.

A major source of this frustration is that parents blame themselves for their child's problems, including school performance, social rejection or exclusion, behavioral problems, and emotional outbursts. When a child fails, the parent internalizes the failure, feeling like they are fundamentally flawed as parents.

One simple shift in perspective can turn all this around.

Think of your role in parenting as being like that of a coach. A coach doesn't hide in shame when she sees a player miss a shot or goal. A coach thinks of her job as building skills and solving problems.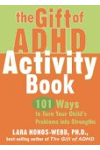 Continue Learning about ADHD