Adult ADHD is exacerbated by the internet and smart phone use; the excessive screen time is distracting to one's focus and concentration. In this video, neuropsychologist Sanam Hafeez, PsyD, discusses the impact technology can have on adult ADHD.
Adults with attention deficit hyperactivity disorder (ADHD) need to be more careful than other people when they're using their cell phone or computer. In this video, psychiatrist Sudeepta Varma, MD, explains why.
Continue Learning about ADHD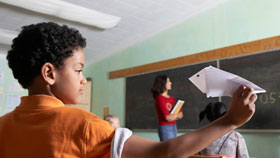 Whether you refer to it as Attention Deficit Disorder (ADD) or Attention Deficit Hyperactivity Disorder (ADHD)it's the same disorder. Impulsive behavior, hyperactivity, difficulty concentrating are symptomsand children and adults ...
can have them. Can't sit still, can't finish projects, always forgetfulthese are also part of the pattern. With medications and therapy, it's possible to control these impulses and live a more normal, productive life.
More