For your child with attention deficit hyperactivity disorder (ADHD), this exercise will tap into your child's imagination, which can seem to be on overdrive all the time, and channel it to help him change to a positive state of mind. The important point is for him to learn that he can -- through simple and quick games -- change his emotional state very quickly. Through these skills, he will learn that he is in charge, and that other people cannot control him.

It is best to demonstrate this exercise when your child is upset, angry, or hurt, so you can demonstrate his power to change his state. Say, "Let me show you who is in control of how you feel. Tell me on a scale of 1 to 10, with 1 being terrible and 10 being awesome, how you feel right now."

Next, tell him to think of his favorite superstar and to hold a posture like that of the character or person. If it's a book or movie character, ask him to choose a pose from a moment or scene that is particularly heroic. Tell your child to stand like the superstar, pretend like he is that superstar, and feel all the feelings of that superstar. Tell him that for the next two minutes he should walk, talk, and act like the superstar.

After two minutes, ask your child how he feels different. Ask him how he feels on a scale of 1 to 10. It is likely that he will have changed his feelings, thoughts, and attitudes just by pretending to be his favorite superstar.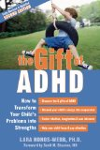 Continue Learning about ADHD