Self-blame for your child's attention deficit hyperactivity disorder (ADHD) can become like a bad virus that spreads and infects the way you perceive everything else. You may develop a tendency to see all the ways in which you are a failure as a parent. If you blame yourself, you may not be aware of and recognize all of the times you're a great parent. In order to counteract this tendency it is important that you increase your awareness of your strengths as a parent. Try the following exercise:
Reflect on your parenting over the past week. Write down all of the specific things you did as a parent that were loving and caring.
Complete the following sentence: My child is lucky to have me as a parent because…
As you move forward into this next week, keep a log of all the loving, caring, and helpful things you do, say, or think as a parent. You may want to buy a small notebook to keep with you so you don't forget any of your great parenting moments. Be sure to pay attention and look for ways in which you give to your children and care for yourself so you'll have more to give your children. Be as specific, concrete, and thorough as possible. Do not leave anything out. You might even find yourself thinking that you are grateful to be a parent. If you do, write that down -- it counts.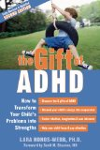 Continue Learning about ADHD