Even if your child with attention deficit hyperactivity disorder (ADHD) has superb teachers, his or her success in school also depends on your teamwork with those teachers. Here are some ways you can work with your child's school to help your child learn at his or her full potential:
Learn and listen. Learn as much about ADHD as you can. Then listen to the opinions and insights of your child's teachers. Your child will have a better chance of success if you approach teachers with a sense of teamwork rather than a list of demands.
Work with your child and your child's teachers to set goals. If you set a behavioral or academic goal together, your child can focus on that goal at both school and home.
Make homework positive. Set aside specific times for homework in a quiet place. Check your child's work and provide guidance frequently, and praise your child's work. A reward system can also be helpful.
Communicate regularly. Follow these tips:
Share your insights about your child. No one knows your child better than you do. You know what distracts or frustrates your child and what rewards are meaningful to him or her. Share this information as needed to help your child's teachers choose good strategies.
Tell your child's teachers when there are changes in your child's medication or other treatment. Teachers can watch for side effects or other symptoms during the school day. The teacher's input is helpful when your doctor is evaluating medication for your child.
Ask one of your child's teachers to set up a brief weekly communication (such as a phone call, email, or note in the child's backpack) to share information about your child.
Stay involved. Along with attending parent-teacher meetings, join the parent-teacher association (PTA) or volunteer in the classroom if you can. Getting to know your child's teachers and friends can help you understand your child's needs and potential at school.
There are many strategies you can use to honor your child's gift of attention deficit hyperactivity disorder (ADHD) and shape her behavior to achieve greater success in school. One is to never punish your child by taking away her time in nature. Because this time is what she needs to help her concentrate, you would put her in a bind if you were to take away her time in nature as a punishment for not following directions or not doing homework.

Another strategy is to avoid offering time spent in nature as a reward, because it is not effective. It is more helpful to give your child time in nature before she begins her schoolwork than to tell her that if she completes her homework she can then play outdoors. She may very well need her time in nature to facilitate doing her homework. The main idea here is that you want to work with your child's natural gifts rather than against them. By realizing that your child feels a special connection to nature and knowing that this connection is healing for her, you can use playtime in nature as a preparation activity to help her focus, concentrate, and follow through on directions. You may want to create a schedule for your child that involves nature time before homework or household chores.

Develop and advocate for project-based learning exercises for her, both inside and outside the classroom. This means that in science classes, for example, you try to engage her senses with field trips and exploration of the world.

This type of learning exercise asks children to actually do things rather than just read about them. Children with a diagnosis of ADHD have a hard time processing abstractions or rational, linear representations of the world. However, they can be very effective at solving real-world problems and learning through engagement with the world. As a parent, you can engage your child's interest by introducing her to a project or experience that helps to illuminate a topic she's studying in class.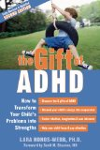 Continue Learning about ADHD