The Read Me Like a Book game will help you, your family, and your friends develop one of the most valuable emotional intelligence skills -- empathy. Especially for a child with attention deficit hyperactivity disorder (ADHD), who is prone to impulsive and aggressive behavior, empathy can help to ease social relations, as your child will be more apt to sense and care about how her actions affect others.

This fun game can be played with the whole family and with friends. For this activity, have everyone write the titles of their five favorite books on a piece of paper. Have everyone fold up the papers and put them in a hat or bowl. Each person takes a turn, pulling out a piece of paper and reading the five titles. Then, the "chooser" tries to guess who wrote down those titles by considering what kind of person would love those books. You need to think about the interests and personality of each person when trying to determine who chose which books, an effort that helps to promote feelings of empathy.

It can be fun to figure out who selected which books, but this game asks you to go farther. Like Sherlock Holmes, the famous fictional detective, you are to try to figure out what it's like to be the kind of person who would choose those five titles. How do they think and feel? What's important to them? Each player is challenged to come up with more and more details about the person who chose the five favorite books in question. When the player has given a great effort, other players can join in with guesses about who the booklover is or other ideas about what that person must be like on the inside. The game can finish up with the person who actually chose the five books coming forward and offering insight into how accurate the comments were.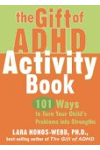 Continue Learning about ADHD