Because your child with attention deficit hyperactivity disorder (ADHD) does have a difference that requires accommodation, he will need to build skills in asking for help and accepting appropriate guidance and resources. You can coach your child in two skills that will be essential for his success in school: asking for and receiving help. This activity will demonstrate to your child the dramatic difference requesting help and getting it can make. You should do the activity for the sake of fun, but later refer to it as a teaching point.

Set up an obstacle course for your child. It can be through a playground, a backyard, or another setting, and it should require him to accomplish certain tasks. Go ahead and time him in the course, or have him race against another child. As an example, on a playground you can tell him to run to the slide, go down it, then dig a hole in the sand and fill it with water, then run to the swing and fly like Superman on it for three swings, then run to the monkey bars and complete those before returning to the start.

Whatever creative course you design, be sure to include an activity that will require some tools, like digging a hole and filling it with water. Set your child off and time him or have him race with some other kids. Most likely he will scramble around trying to dig a hole with his hands and then search around trying to figure out how to get water to the hole.

When he finishes (or gives up, saying he can't get water in the hole), tell him you'd like him to do the course again, and ask him, "How will you dig a hole and fill it with water?" Be prepared with a toy shovel and water bucket you've kept hidden. Tell him that this time he can come to you and ask for these tools. Let him complete the obstacle course again, this time asking for help from you and getting the tools. Just let him have fun with this game without moralizing, but point out how much easier it is with the right tools.

You can refer back to this at a later time to show him how he can help create a supportive environment by asking for what he needs and receiving help. A side bonus to this exercise is that it will help your child use up some of his overflowing energy!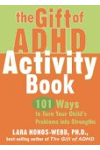 Continue Learning about ADHD