Gardening
When you take the time to examine your attention deficit hyperactivity disorder (ADHD) child's perspective when he doesn't follow directions, you will often find he is seeking to meet a need that is predictable in the ADHD child. A lot of bad behavior in ADHD kids can be explained by their increased need for physical activity and their desire to be in nature. Kids don't clean their room or do homework because they are itching to get outside and get moving. Once you meet this need, you may have more luck getting him to follow through on your agenda.
You can improve your child's skills at following directions (and his enthusiasm in doing so) by giving him projects to do outside. You can ask him to act as your landscape artist, helping you to design and implement a plan for your yard, garden, or community. This will combine physical activity with being outdoors. You can ask him to plant some flowers or pull weeds. You can give him a project involving designing a garden area using plants, stones, and other materials. If you give your child the opportunity to be outside and use his creativity while keeping busy, you will be meeting many of his needs. You can even give your child a problem to solve, like deciding what to do with an unused or overgrown bit of the backyard. Give your child a chance to come up with answers and propose projects to solve real problems.
Fictional characters
The tricky part about cognitive interventions in the treatment of ADHD is that, on one hand, you want to change your child's thoughts and behavior, and, on the other hand, children with ADHD are in deep need of validation and acceptance. For this reason, one strategy for teaching some of the basic principles is to start out with fictional characters that your child already has an intense interest in. Because you are talking about a character, rather than the child herself, she will be less likely to feel invalidated and become defensive and antagonistic.
Spending time in nature
Children with ADHD have a strong intuitive connection to nature and organic life, more so than abstract book learning. The image of a child with ADHD staring out the window in a classroom can show that he is paying deep attention—but to the natural world outside of the classroom that he can glimpse from the window. Even solid empirical research has shown that children with ADHD show improvements in symptoms after play in green nature. This isn't just because they're getting exercise. The effects are not shown for example if they play on a concrete basketball court.
This is a tremendous gift to the world and it may be children with ADHD who go on to have careers in conserving the environment, keeping the water clean or as marine biologists. In their connection to the natural world, they may represent a much-needed force in the world to protect the environment that has been destroyed by considering the natural world to be exploitable and expendable.
Children with the diagnosis of ADHD have a preference for learning about the world through hands-on engagement. They like to be immersed in the topics they are learning about. They are often very curious about the natural and organic world, feeling a deep connection to it. This gift for engaged experiential learning is often overlooked because existing educational systems focus on abstract learning and rote memorization. What looks like a "deficit disorder" can be viewed as a mismatch between a preferred way of learning and current standards of teaching and assessment of learning.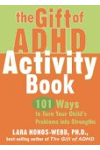 Continue Learning about ADHD