There are concerns about the label of attention deficit hyperactivity disorder (ADHD), as with any diagnostic label. However, by being aware of these concerns you can take preventative action so your child won't experience these possible negative consequences.
Motivation
One concern is that the diagnosis of ADHD will lead to low motivation. For example, a child may interpret the label to mean that they are impaired and have a disease. She might then wonder why she should waste her time on a playing field which she can't win. Pay attention for any signs your child might be saying to herself, "I have a disease—why try?" You can counter this destructive belief with stories of those who overcame great obstacles and also reminders that academic performance is substantially based on persistence and motivation and that there is little to no relationship between ADHD and intellectual abilities.
Self-efficacy
Another concern about the ADHD label is that it could result in your child developing low self-efficacy—a feeling that she cannot control the outcomes of her life or achieve the goals she has set for herself. Efficacy is ultimately about one's ability to control the world, to act on it and make things happen. The risk is that children will hear the label and believe "I'm a victim, I have a disease, and I'm not in control." This can be dangerous because motivation and persistence will be strongly related to your child's belief about her efficacy. A sense of being able to act on the world and make things happen is a basic requirement for any person to put forth the effort to make her dreams come true.
Self-esteem
Another concern about the diagnosis is that it will lead to the belief that something is fundamentally wrong with the child. You may want to watch for global or general beliefs, feelings, or statements from your child that she is somehow essentially flawed or will never be good enough. One way to think of it is that these beliefs can become like the "soundtrack" of your child's life—a background belief that affects the entire tone of her life. It can be possible for the child to hear the words "deficit" and "disorder" and feel that the label is adding insult to injury. As a parent, you should be aware of this possibility, taking care to counteract any negative internalizations and to provide your child with positive feedback about who she really is.
Teacher expectations
An enormous body of information has shown us that teachers' expectations for students are very powerful in determining the subsequent performance of those students. In one of the most well-known studies, teachers were told that a certain group of students were very gifted and that another group of students were average. The expectations given to the teachers did not actually reflect the abilities of the students at all. The researchers found that the students who were expected to do very well had made substantial improvements by the end of the year, whereas those for whom the teachers had lower expectations did not make substantial improvements.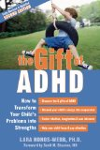 Continue Learning about ADHD