Parents can help children deal with attention deficit hyperactivity disorder (ADHD) by giving them a schedule to remind them what they're supposed to do. It also doesn't hurt if parents give their children a little reward for doing a good job. Some parents put alerts in their kids' phones to keep them on schedule and not miss things.
The most important aspect of parenting a child with ADHD is structure and consistency. Many children with ADHD are aware that they have a problem focusing on tasks and find it extremely helpful of there is order and predictability in their lives. Many children have problems in school which lead to low self-esteem. A good way to help them is to get the child involved in an activity that they do well such as sports, music, arts and crafts, etc. It is extremely important, when dealing with a child with ADHD that the parent focus on the child's positive behaviors and reward them appropriately.
If your child has ADHD, brain care basics like sleep, nutrition and positive contact are key, as well as structured routines. Watch ADHD specialist Edward Hallowell, MD, share his tips for what to do at home to help your child with ADHD succeed.
It is very likely that you will need to change your parenting style for your child with ADHD. It is important to know that children with ADHD, although they have average to superior intellectual ability, suffer painful dissapointments when they see themselves achieving less, and even failing in school.
Many of the impulsive behaviors of ADHD children elicit anger and punishment from their parents. As a result of these disappointments and frustrations these children suffer damage to their feelings of self worth; and their self esteem is damaged. As these children adopt compensatory behaviors in an effort to get some sort of recognition, they merely incur more frustration and negative feedback.
These conditions can spiral into a lifetime of failure and frusration. You should seek help from a competent parenting counselor to learn the specific ways that you need to change as a parent to help your child with ADHD suceed and thrive.
ADHD is a neurological condition, and kids with ADHD are at risk for difficulties with school, behavior, and relationships. Learning more about the condition is important for parents. Helping your child to structure his or her activities, homework, and even social events can help your child increase his or her chances of success.
Try to structure your child's activities into smaller "chunks", with the steps mapped out in advance so he/she doesn't get "lost" in the process of completing a task. Each step should be praised. You should also look at modifications for homework and schoolwork—some kids do better when sitting on an activity ball, for example.
There are lots of excellent books on ADHD. Scan your local bookstore or library to find one that's written in a style that works for you. There are also expert therapists who specialize in ADHD, and can be very helpful in setting up a plan that will help your family.
But mostly, understand that ADHD is a condition—and not purposeful misbehavior by your child. Our kids absorb our opinions of them, and it's important that we convey the message that "everyone has their challenges—and this is yours. I will help you tackle this day-by-day—and I love you no matter what."
Kids with attention deficit hyperactivity disorder (ADHD) often do best when they have very clear guidelines. They need to know exactly what they have to do and what is expected of them. Help your child with ADHD at home by setting clear limits, giving precise directions, and setting realistic expectations for behavior. Be consistent—kids with ADHD respond well when they know that their behavior, both good and bad, will always have consequences.
To help your child with ADHD as much as possible, you may need to make some changes in your parenting style. The goal is to learn better ways to help manage your child's behavior and have a better relationship with him. Training classes for parents of kids with ADHD are offered in many communities, often through a parent center funded through the U.S. Department of Education in support of the Individuals with Disabilities Act (IDEA). Every state has at least one parent center.
Many children will require daily medication often in combination with professional counseling. It is also recommended that you educate yourself about the best practices for interacting with and disciplining the child. Patience, affection, and an organized routine are helpful.
Help your child with ADHD find a creative, fun hobby
One of the most important gifts of attention deficit hyperactivity disorder (ADHD) is high energy and emotional intensity. These two aspects can help him pursue what inspires him with a verve other people may not possess. You can honor his passions and teach him to use his intense interests as a guide throughout life with this activity, which amplifies and combines your child's interests in creative ways. You will be teaching him to identify what he loves, what gives him joy, and to follow those feelings of joy. Habits like these will enable him to pursue what he loves, a strategy many people believe is the way to true success in life. In addition, being absorbed in his passions will build skills and the capacity to pay attention and organize himself.
Be a coach to your child with ADHD
Part of being a coach to your child with ADHD is understanding what may be motivating bad behavior and poor performance. In some cases, negative attention that singles him out may in fact be meeting his basic need for being unique and special. One way to prevent your child from seeking out attention in this way is to plan an activity that highlights how special he is. This means doing something with just your child, an activity that involves a treat and extra positive attention.
Many of us use the removal of treats or privileges as a means to discipline our kids when they misbehave. But sometimes taking away treats, attention, or an activity that instills a sense of uniqueness in your child can set up a vicious cycle. He desperately needs to feel important and special, so he reacts by misbehaving even more, both out of frustration and as a strategy to get special but negative attention.
Your child's special activity should involve only your child. If you have other children, you can emphasize to your child that the activity is just for him and not for his brothers and sisters (of course you'll want to make sure each child gets a special-attention activity). Use your creativity in planning the activity, but remember that it could be as simple as taking him out to dinner—just you and him. Emphasize to your child that this activity is just to show him how special he is, and that he doesn't have to do anything to earn it.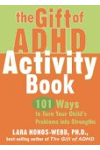 Continue Learning about ADHD