To know if your demands on your child with attention deficit hyperactivity disorder (ADHD) are reasonable, try the following activity. For one full day, write down all of the guidance you give your child on that day. This could include reminders about eating healthy, finishing projects, specific answers to questions, common struggles ("Hurry!"), and your expectations for your child ("We don't act that way"). Record as accurately as possible your words, your attitudes, and your expectations for your child. If you offer words of instruction multiple times, keep a running tally of the count.

Write yourself a letter with the same guidance you offer to your child, but offer it to yourself in a context relevant to your life, including your current struggles and successes. Read the letter and determine what parts of the guidance you offered your child would be important for you at this point in your life. Take those messages to heart.

You may also want to note guidance that, on reflection, is unreasonable for you or your child. You may realize when you look at the tally that you asked your child to hurry twenty times that day. When you are on the receiving end of this advice, you may decide to make some changes.

This activity will help you accomplish two things. First, it will help you to examine the ways you may have a lot of intensity around issues your child has that are also your own. Secondly, it will help you advocate for your child because you will be able to more clearly determine the reasonableness of the demands and expectations that you, your family, and your child's teachers make on your child.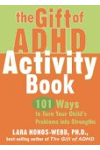 Continue Learning about ADHD