Instead of nagging your child with attention deficit hyperactivity disorder (ADHD) to stop complaining, experiment with honoring your child's complaint and translating it into constructive creativity. If your child complains about basketball practice, seriously reflect on the possibility of quitting. Why is he going to practice anyway? Why is he playing basketball at all? Whose agenda is the activity fulfilling? If he complains, explore alternative possibilities. Are there activities that you push and your child resists that are really meant to meet your own needs? If he complains, consider this possibility.

If your child complains that he never gets a moment to rest and relax, choose one day to experiment with changing your schedule so there is more downtime. Or choose a week and let him help create a schedule. Choices that initially feel hard, like dropping activities, can surprise you by providing great, unexpected relief.

Find a way of translating one or more of your child's complaints into an action or activity that respects the complaint's content. Experiment with seeing the complaint as an action plan. You don't have to make a commitment to the change on a long-term basis, but explore what it feels like to do things differently. Instead of telling your child to stop whining, give in for a short while and offer him the sense of power that comes with being heard. This compromise may even just reveal that what he wants doesn't work, but at least your child will have the sense of being heard and will learn for himself that what he wants isn't reasonable. It's also possible that your child's complaints will transform your life in positive ways, freeing you from unreasonable expectations that hold both of you back.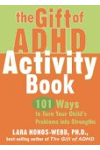 Continue Learning about ADHD