Your child with attention deficit hyperactivity disorder (ADHD) may get into trouble in school for looking or acting confused when called on or when participating in classroom exercises. His confusion or apparent disorientation may give the impression that he is not paying any attention at all. It may make him look less intelligent and provoke harsh comments from teachers and students alike. However, this sense of confusion can be reframed as reflecting a higher intellectual sophistication, because it can result from an appreciation of the deeper complexity of the topic. It can be looked at as an appreciation of the mysterious, as an expression of humility in the face of the complexity of the world.

Confusion is an admission that one does not fully understand the material being covered. And creativity requires that a person acknowledge that there is a deeper aspect of what is being presented. Therefore, confusion can also be thought to be a necessary component of creativity. Confusion can represent an experience of the mystery of what is being taught. For example, in reflecting on photosynthesis, a child with ADHD might be awed by the order and harmony in the universe that allows for the sun to nurture plant growth, which in turn nurtures the human environment. But that same child might get derailed by the experience of awe and get confused about the detailed aspects of the biology of photosynthesis. In fact, the constructed explanations offered to students by teachers are often oversimplifications.
In pretending to know it all, students and teachers gloss over the complexity and mystery of the world. Confusion, though it is essential to creativity, gets a bad rap in our culture, which makes a virtue of being sharp and quick at all times. These cultural demands overlook the value of being slow and uncomprehending. But admitting or experiencing not knowing can be liberating. In fact, the struggle to always have the right answer actually prevents a person from learning. If we think we have the answers, or if we are seeking only one answer, then we are not open to a deeper understanding or to exploring other ways of seeing the world.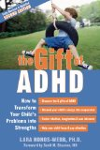 Continue Learning about ADHD