If your child is diagnosed with attention deficit hyperactivity disorder (ADHD), let the school know. You will probably be invited to meetings where the school counselor, teachers, and perhaps other school professionals will discuss the best approach for your child. Be sure to attend these meetings. Your insight as a parent will be extremely helpful.
Your child's teachers can cooperate with you to set goals for your child's learning, decide on behavioral management techniques that will be consistent between home and school, and communicate about your child's progress.
Continue Learning about ADHD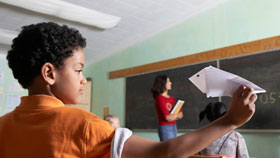 Whether you refer to it as Attention Deficit Disorder (ADD) or Attention Deficit Hyperactivity Disorder (ADHD)it's the same disorder. Impulsive behavior, hyperactivity, difficulty concentrating are symptomsand children and adults ...
can have them. Can't sit still, can't finish projects, always forgetfulthese are also part of the pattern. With medications and therapy, it's possible to control these impulses and live a more normal, productive life.
More