There is limited data to suggest that a child's attention deficit hyperactivity disorder (ADHD) can be treated with diet alone. Elimination diets (slowly eliminating things from the diet such as dairy, gluten and sugars) have been studied. Some parents who are concerned about starting their child on medications may be interested in trying an elimination diet first.

Supplementation with fatty acids has been studied since it seems that many children with ADHD have a diminished level of fatty acids in their bloodstream. Supplementation with fatty acids, however, has not been shown to improve outcomes without medication.
Certain foods have the power to affect ADHD in children. In this video, Dr. Robin Miller explains how avoiding certain foods can solve a piece of the ADHD puzzle.


Continue Learning about ADHD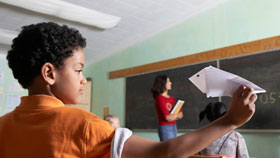 Whether you refer to it as Attention Deficit Disorder (ADD) or Attention Deficit Hyperactivity Disorder (ADHD)it's the same disorder. Impulsive behavior, hyperactivity, difficulty concentrating are symptomsand children and adults ...
can have them. Can't sit still, can't finish projects, always forgetfulthese are also part of the pattern. With medications and therapy, it's possible to control these impulses and live a more normal, productive life.
More