Everyone has untapped resources that they do not know about or are just not using. Some video games require you to have a tool at one level that you had to pick up at an earlier level. When your child is struggling with a problem, you can turn it into an activity -- searching for some resource, relationship, skill, or gift he has that can act as a secret tool to help him solve this problem. Tell your child that there is always a secret reservoir that will be useful in solving problems that come along. Talk with your child and help him find what resources he has that he is unaware of. Ask your child, "How do you find your secret reservoir?" Let him generate as many answers as possible. If he gets stuck, ask him the following questions to figure out where to find the secret reservoir:
Is there a person who can help you solve this problem?
Is there a network of people who could help you?
Is there a skill you have that could solve this problem?
Is there a gift or talent you have that could solve it?
Is there a technology that can help you solve the problem?
Is there a resource (Internet, professional) that can help you solve it?
This game can be made fun by making it like a mystery to solve. It will also help your child to gain a sense of hopefulness in the face of his struggles. It will imprint the message that if he keeps looking, he can find a solution to his problems rather than just getting depressed or giving up.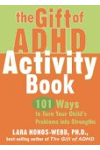 Continue Learning about ADHD