Many children with the diagnosis of attention deficit hyperactivity disorder (ADHD) describe feeling like they have an internal motor that makes them go all the time. By becoming aware of her motor, she will be less likely to be driven by it, and she will gain skills to help her tolerate the driven feeling.
In a journal, record all the information you get from your child about what comes before, after, and during the changes in motor speed. After a few weeks of taking notes, summarize your findings under the following titles:
Behaviors That Slow the Motor Down
Behaviors That Speed the Motor Up
Consequences of Speeding the Motor Up
Consequences of Slowing the Motor Dow
Once you have compiled a fairly long list of behaviors under each title, you can shape your child's environment to help her manage her behavior according to the information you have collected. Your goal is to (1) increase the activities or events that slow the motor down and (2) decrease or eliminate activities that speed the motor up.
Tell your child's teachers about the information you've gathered to help her manage her behavior while at school. Share the information with your child as well, to help her keep in mind the importance of paying attention to her inner motor. By reminding her of the negative consequences of a revved-up motor and the positive consequences of a slowed-down motor, you will help her increase her motivation to exercise control over her motor.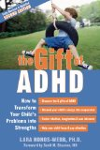 Continue Learning about ADHD