In the Back to the Future activity, rather than seeking to learn about what's going on in your child with attention deficit hyperactivity disorder (ADHD) now, you will seek to set in motion the forces of positive expectation. This activity will help shift your focus, and that of your child, from petty competitions to the outstanding expressions of his deepest gifts. To begin with, you will ask your child what dream he would most like to come true in the next five years. Five years from now, where would he like to be and what would he like to be doing? Make sure you encourage him to dream bigger and bigger. Then settle on a concrete goal that would be a great passion and great accomplishment for your child.
Next, you can pretend you are an interviewer for your child's or your own favorite magazine. Pretend you are interviewing your child five years from now after he has accomplished this dream. Ask him a series of questions like:
How long did it take you to make this dream come true?
How did you accomplish such a great feat at your age?
What advice do you have for others who want to do this?
What was the hardest part of making your dreams come true?
What did you do when things got tough?
How did you keep going when you felt disappointed?
You can also make up your own questions. You could even write an actual article based on your interview and give it to your child to read. It will serve as a great reminder when he gets discouraged or needs motivation.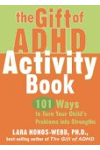 Continue Learning about ADHD