Try this exercise: Set up a fictional scenario, or ask your child with attention deficit hyperactivity disorder (ADHD) to provide the details of the challenges to be overcome, perhaps including a dragon guarding a treasure or a damsel in distress. Embellish your story to draw as many parallels as possible to your child's own language and attitudes around ADHD. These themes will include the power of a positive attitude to achieve goals and how our thoughts create our behavior.

Encourage your child to identify thoughts leading to emotions that might make a character say, "Why try?" Help him see the connection between these thoughts, emotions, and the behaviors they encourage. Then challenge him to generate ideas or thoughts that would help the characters to overcome their challenges or to achieve their goals. Ask your child to write down examples of helpful things this character could say to himself. Help your child if he is struggling. In this way, the diagnosis of ADHD can be seen as an impetus for more effort rather than an incentive to give up in frustration.

Let your child's imagination run wild as he explores the different fates of the the characters of interest. Then you can gently bring him back to applying these principles to his own life. You might quietly remind him, for example, how this situation would apply to his struggles in social studies class, where your child feels the teacher is always "dissing" him.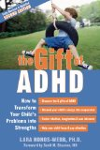 Continue Learning about ADHD