The constant increase in activity level creates stress and pressure for anyone and will make the symptoms of attention deficit hyperactivity disorder (ADHD) worse. You need to constantly monitor your child's activity level and keep it reasonable. In addition, both you and your child will need to make sure the activities you do select increase joy rather than add stress. This experiment is one you can repeat each week.

Each week select one existing activity that you and your child agree you can eliminate. At the same time, brainstorm for an activity that you can add that will increase you and your child's joy. The activity that you add should be noncompetitive and feel in alignment with your child's deepest gifts (or offer a chance to explore and find out what those gifts might be). If you struggle to find an activity to add that really packs a punch in terms of leading to excitement and joy, you and your child can make your activity a search through local magazines, surfing the Internet, and asking others for their favorite activities.

Many times we get stuck in a rut and are dragged down by habits that no longer serve any purpose, draining our energy. If you have a hard time finding an activity you can eliminate, write out a weekly schedule and review it closely with your child. As an example, you might cut out a sports activity and replace it with a family walk. You might cut out a TV show and add a family food prep night, in which everyone helps prepare some homemade treats.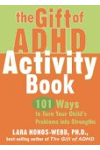 Continue Learning about ADHD